Your kids love playing with your phone, but you don't want them calling 911. ABC 4 ME is a fun learning game for little kids that's compatible with all phones running the Android and iPhone operating systems. Infants, toddlers, and preschoolers can enjoy pressing the colorful buttons while learning how to pronounce and sing the alphabet. They can then test their skills by matching the letter to the sound.
The game is very simple. You have a colorful letter keypad. You can hear a sound if you press on a button. Because all letters of the alphabet don't fit on the screen, the letter that you press on will move into the first position on the keypad, thus shifting the alphabet with it. The alphabet starts over once the end is reached. To listen to the alphabet song press the treble clef button. By pressing the ? button kids will be asked to find the letter on the screen. All sounds were recorded by my 4 year old son Raphael, so your kids should be able to relate to his voice :)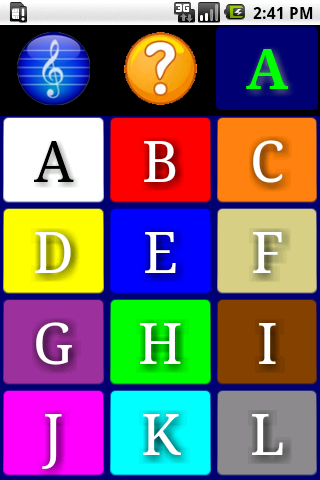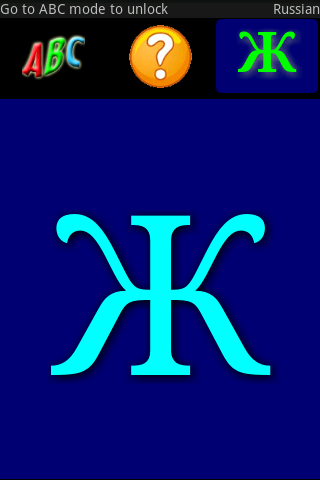 There are two versions of the application. Here are the differences between the two:
Feature
Lite
Full
Friendly Buttons
X
X
ABC Song
X
X
Quiz game
X
X
Childproof*
Voice Record**
No Ads
X
Language
English
X
X
Russian
X
Spanish
X
Price
Free
1.99

Android only feature.
* Childproof Mode disables most non-game phone inputs. Pressing the four corner buttons will exit Childproof Mode.
** Voice recording supports the following alphabets. Phone support may vary:
Arabic
Modern Latin (English, French, German, etc.)
Chinese
Greek
Hebrew
Hindi
Italian
Japanese (Hiragana)
Japanese (Katakana)
Korean
Polish
Russian
Spanish
Spanish (RR)
Turkish
Search for "ABC4ME" on your phone, or get it from your PC by following this link:
Android: http://market.android.com/search?q=abc4me

iPhone:
Lite: http://itunes.apple.com/us/app/abc-4-me-lite/id424865524?mt=8
Full: http://itunes.apple.com/us/app/abc-4-me-alphabet-for-kids/id424494704?mt=8
ABC4ME even showed up during a Google presentation as #4 on most popular Katakana apps!!!
I appreciate any feedback. You can use the contact page to send me an email.
Thanks for making ABC 4 ME a top downloaded app!
Alex